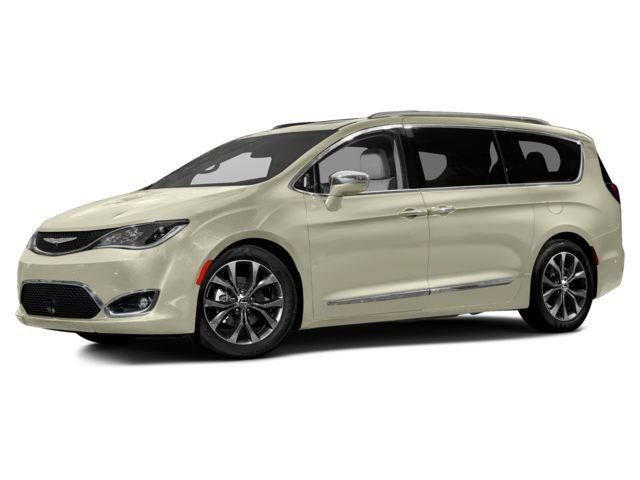 Over the years, minivans have become synonymous with soccer parents or long family road trips. These functional vehicles generally aren't associated with class or luxury, right? Chrysler has flipped the stereotype on its head with the release of the 2017 Chrysler Pacifica, a minivan in function, but every bit as stylish as Chrysler's line of gorgeous sedans. Fashion and function have finally come together to offer a minivan for both the "married with kids" and the "keeping it classy" car buyers.
Exterior
Leave your minivan preconceptions at the door. The 2017 Chrysler Pacifica looks more like a roomy luxury vehicle than what you may expect. Its sleek and streamlined design is reminiscent of Chrysler's luxury sedans and is available in a wide variety of classic colors. The chrome details are dazzling and seamlessly encase the highly efficient LED headlamps. Enjoy a little natural light or take in the rainy weather with the panoramic sunroof.
Although the Pacifica was built to impress, Chrysler never sacrifices function for fashion. The Pacifica's hands-free sliding doors and trunk make everyday life a little bit easier and a whole lot more beautiful.
Interior
The Pacifica's interior offers more than just space. Leather seating in beautiful colors rounds out the sleek aesthetic while also proving versatile and exceptionally comfortable. The Pacifica features a Stow 'n Go® Seating and Storage System to accommodate more family and friends or more storage for those road trips.
Tell everyone to pile in! The Pacifica seats up to eight people comfortably and offers heated and ventilated seating in the front row.
All those people can make a great big mess, though you'll always be prepared, no matter what life throws at you, with the Stow 'n Vac™ cleaning system. An extendable vacuum is never far away with this ingenious addition, so you can always enjoy a clean vehicle.
With more storage space than ever before and the best noise cancellation technology in its class, the Chrysler Pacifica makes both roads trips and short drives more enjoyable.
Bells and Whistles
It's beautiful and functional, but is it safe and efficient? Chrysler knows your most important job is protecting your loved ones. That's why the Pacifica provides a 360 degree surround view camera which displays a bird's eye view of your vehicle so you'll always know what's coming.
Forward Collision Warning technology alerts you if you are in danger of colliding with a vehicle in front of you and automatically applies brakes if needed.
Never fear parallel parking again. The Pacifica offers parking assistance which guides you into the perfect parking job every time.
With a 2017 Chrysler Pacifica, you'll enjoy functionality and fuel efficiency. The Best-in-Class towing capabilities provide effortless transportation of up to 3,600 pounds thanks to the powerful V6 engine. Despite its strength, the Pacifica is anything but a gas guzzler, getting a respectable 28 miles per gallon.
You will also be able to keep your loved ones entertained during the drive with interactive apps and games on the Uconnect® Theater system.
Plus you'll never lose your way again in unfamiliar locales with the touch screen navigation pad that controls directions, music, phone operations and more.
Find Your Match at Chuck Stevens Chrysler Dodge Jeep Ram
Whether you need a vehicle big enough to accommodate your kids' carpool or are packing up for a big trip, the minivan-redefining 2017 Chrysler Pacifica is a vehicle that excels at the fundamentals while adding a new layer of class to the driving experience.
Enjoy more luxury
at Chuck Stevens Chrysler Dodge Jeep Ram today! To learn more about our available models, contact us online or call 888-759-0779.